Patta x Sebago Lookbook
CREDITS
Photography
Tim Elkaim
Photography Assistant
Erwann Peterson
Assistant
Elliot Elkaim
Models
Valentino Shakison, Reilly do Rosario
Stylist
Jamairo Nawaz
Patta & Sebago have joined forces to create a capsule showcasing their mutual goals for the Spring Summer season of 2021. The Portland, Maine based brand has been pushing things forward within the world of footwear, championing boat shoes and dress shoes in their own lines as well as collaborative collections that continue to shake the world of sportswear. It was only right that Amsterdam's very own Patta would put their own unique taste on the Sebago Ranger Boot silhouette and Sebago Sailing Jacket. This Trans-Atlantic collaboration is akin to the journeys of many adventurous sailors who have ventured from the states to Europe.

Sebago was founded in 1946, establishing itself as a veritable hype in university and college halls all across the United States as the unofficial uniform of jocks and nerds alike. Its emblematic Docksides rose to fame as the premium boat shoe, but among its ranks the label is able to fall back on two other evergreens: Citysides, a hand-sewn pair of loafers, and Campsides, sturdy mocs for outdoor purposes. Today, Sebago is undergoing its very own renaissance. Not only have its boat shoes and mocassins become regular fixtures at the past fashion weeks, some of its genre-bending collaborations have been making considerable waves across Europe and beyond. Cross-over collabs with cult labels such as Engineered Garments, Pendleton, Universal Works and Baracuda, and with the likes of leading European concept stores such as Mini (Madrid), Nitty Gritty (Stockholm), Oi Polloi (Manchester), VIER (Antwerp) and 10 Corso Como (Milan) re-established the brand's cutting-edge renown. Sebago is one of the brands owned by BasicNet SpA, based in Torino and owner of Kappa, Robe di Kappa, Jesus Jeans, K-Way, Superga, Sabelt and Briko, leading brands in apparel, footwear and accessories for sports and leisure.

The base of the collection is two Ranger Midtop Boots, orange and blue respectively. They both feature ONICE SOFT leather uppers and a rubber commando sole. Hand-sewn by the finest craftsmen and held together by premium stitching on a base of Kletterfit VIBRAM as an outsole.
These sturdy ankle-high mocs combine the comfort of a classy mid-high vamp and upper with the endurance of a thick rubber commando sole, granting weather-resistance and improved stability. These details are specifically designed for comfort and durability. The heel is built up with a micro-cellular wedge material, providing lightweight comfort as well as superb shock absorption. Perfect for experiencing less fatigue when getting busy in these boots. The material is perfect for maximum grip on all surfaces and terrains. Both these materials have been purposefully developed and chosen for the new run of shoes from Patta & Sebago.

Keeping in line with the first half of the collaboration, Patta & Sebago have reinterpreted the original Sebago Sailing Jacket. Inspired by the sailing roots of Sebago, Patta has helped redesign the timeless piece. This three layer Jacket composed of 3 layers is tailor made for maximum performance. The first layer is composed of a 92/8 blend of nylon and spandex for a rip-stop comfortable fit, followed by a polyester membrane for impermeability and a final mesh layer for breathability. Neoprene cuffs defend from water, the underarm eyelets help for
breathability, elastic regulation on the hem and hood for practicality. This waterproof Patta x Sebago Sailing Jacket has been tested with 10.000 water columns, all stitching is seam taped with personalized tape to guarantee waterproof performance.

The brand new Patta x Sebago Sailing Jacket and Patta x Sebago Ranger Mid Boots are available on patta.nl, our mobile app and Patta London, Patta Milano & Patta Amsterdam on Saturday, 5th of June at 10:00 CEST.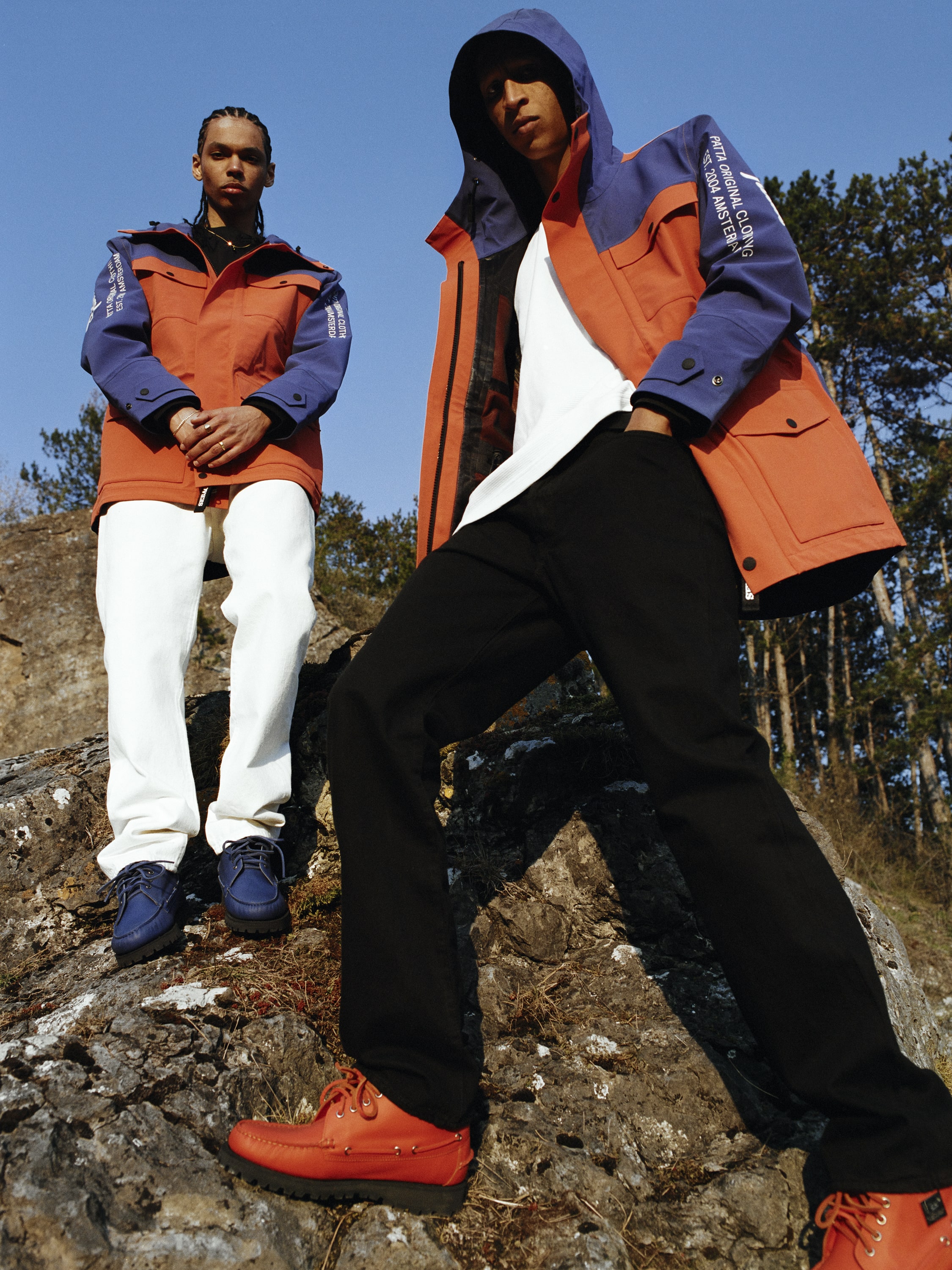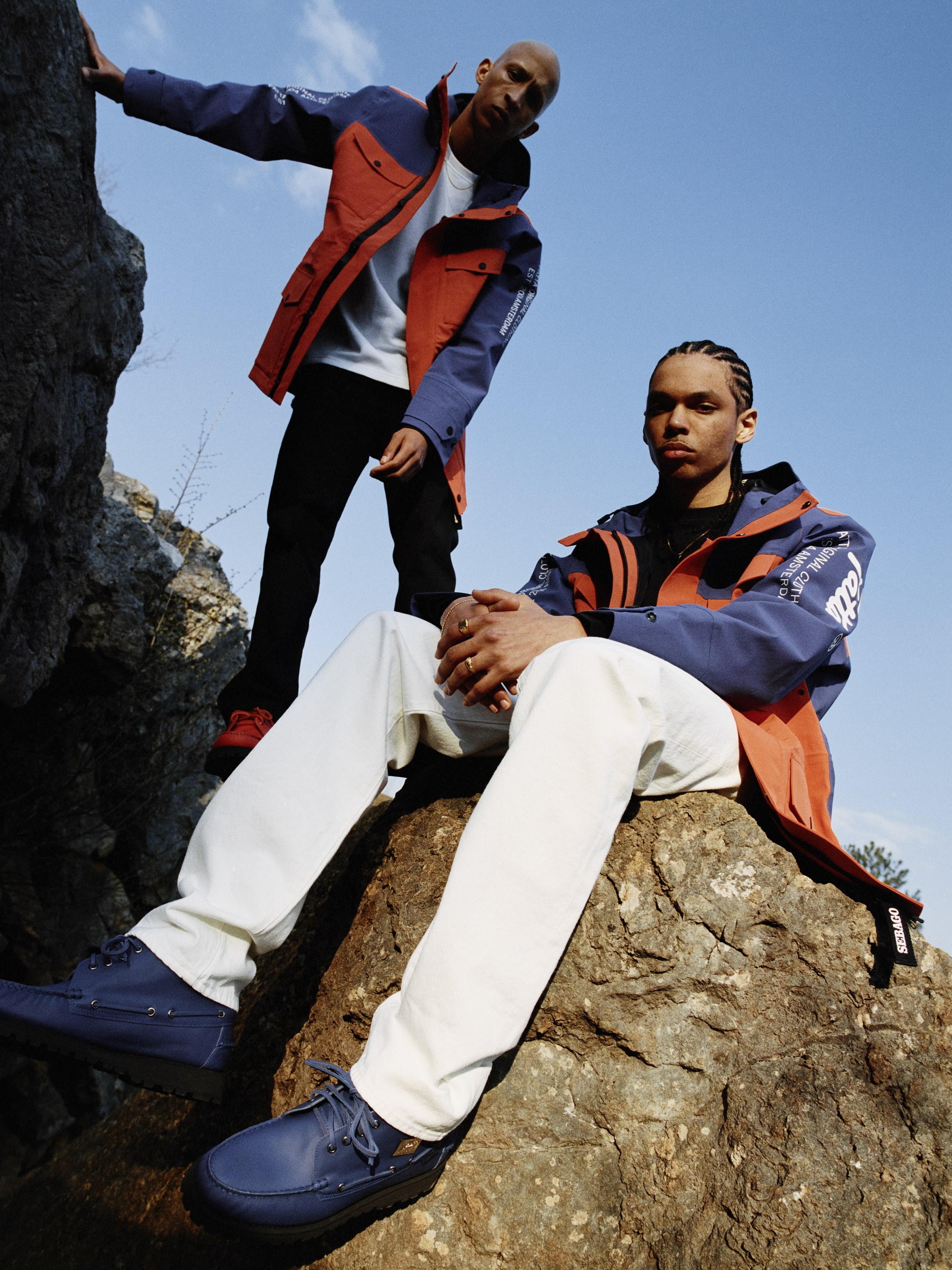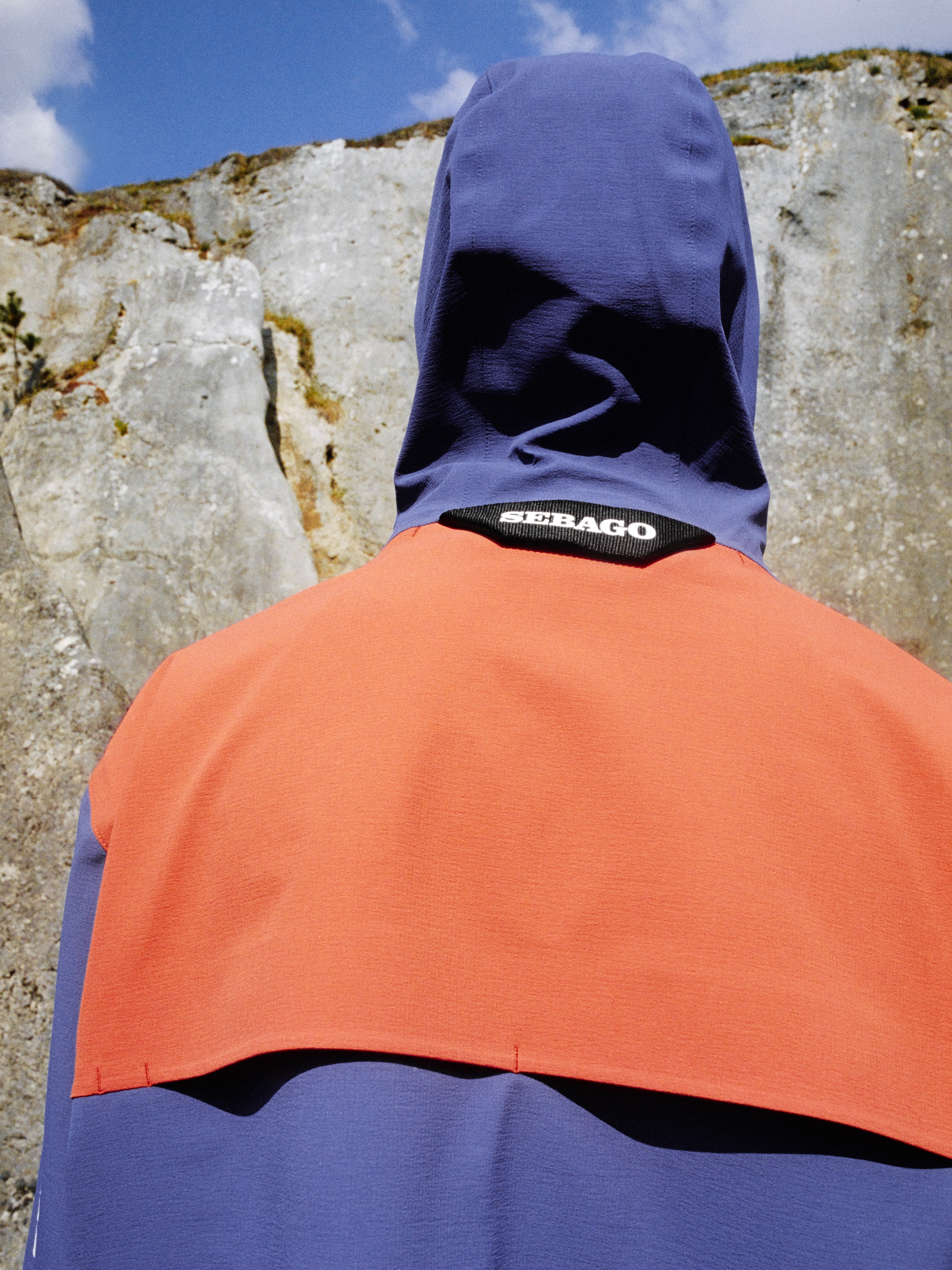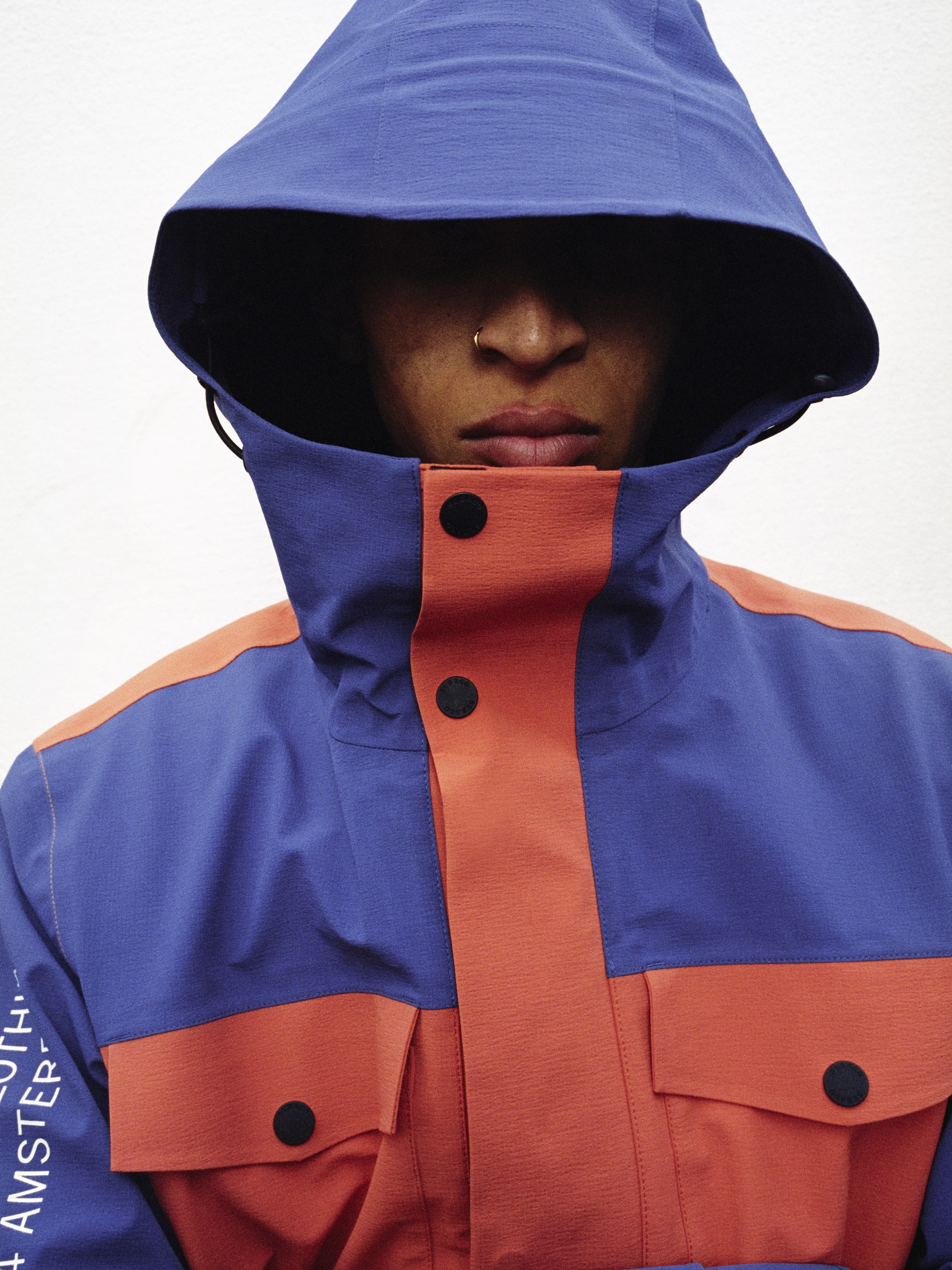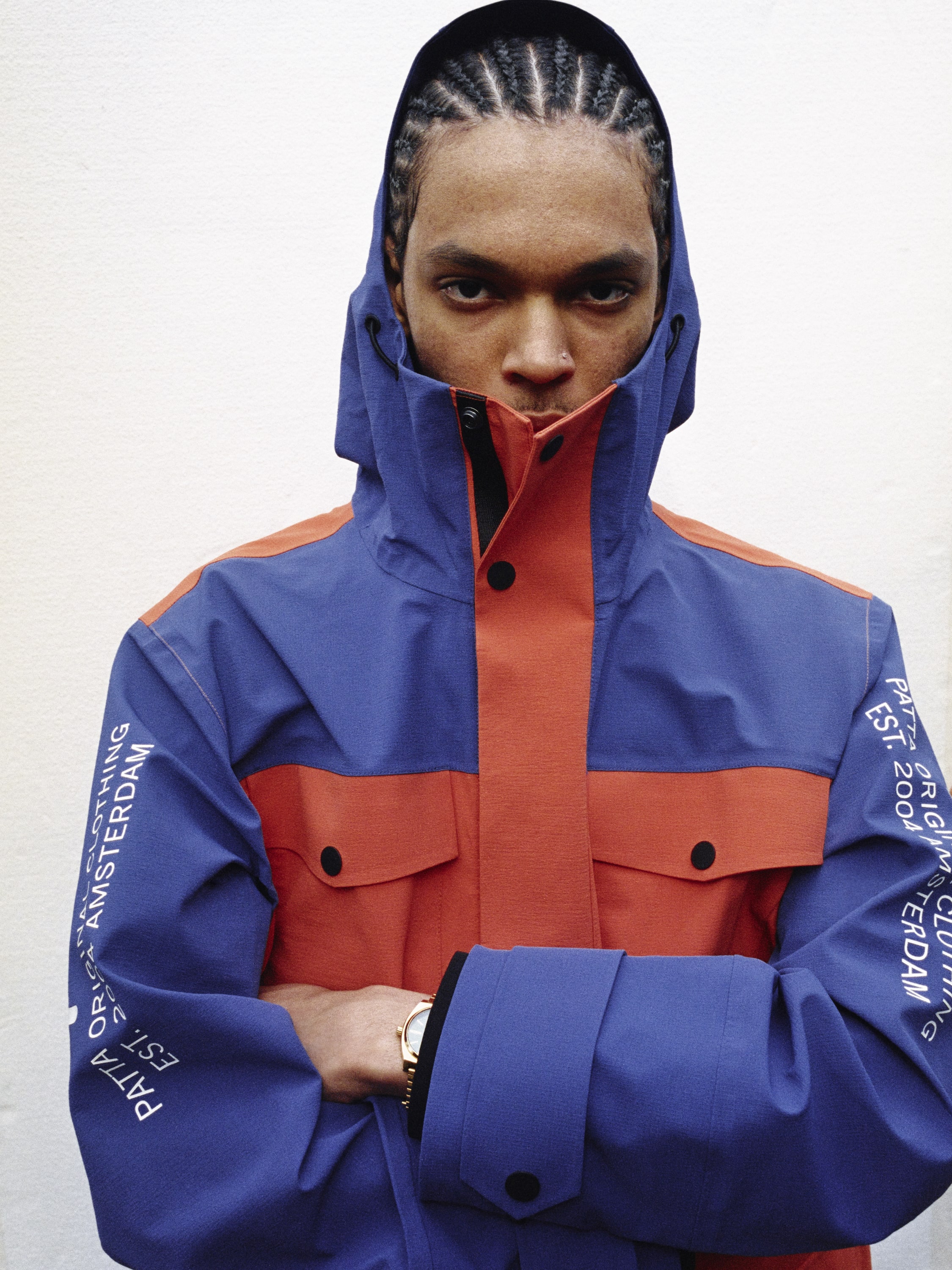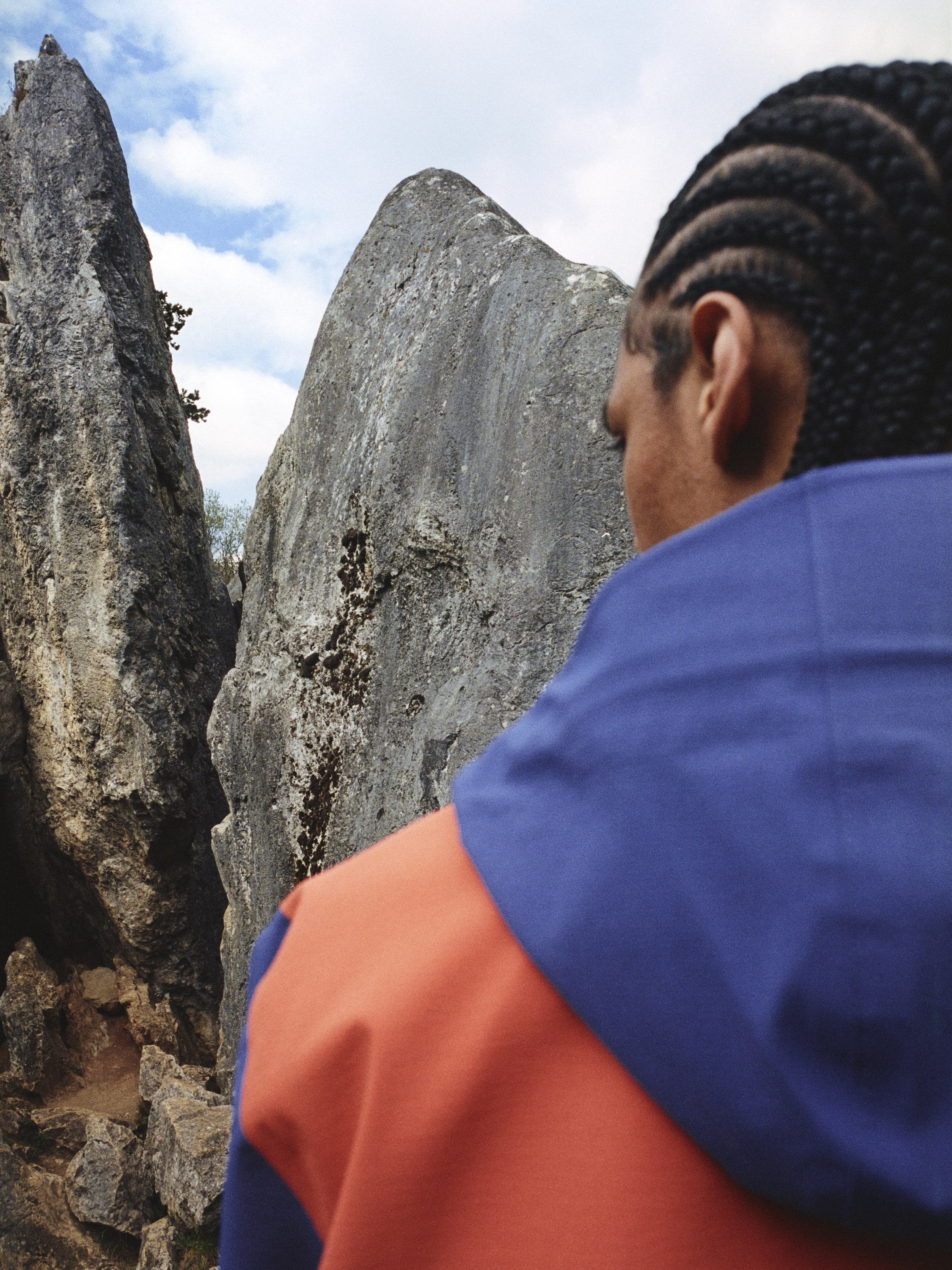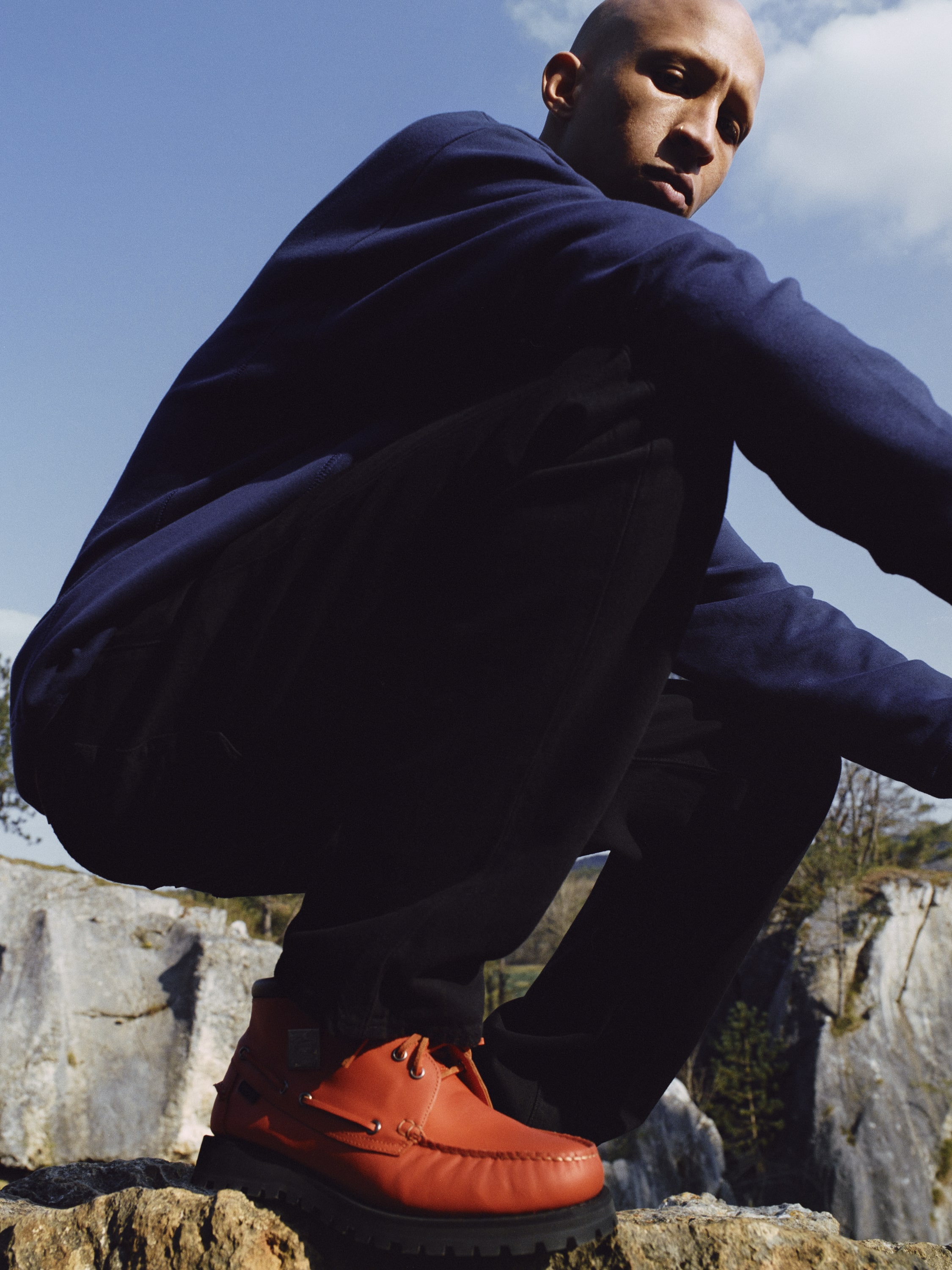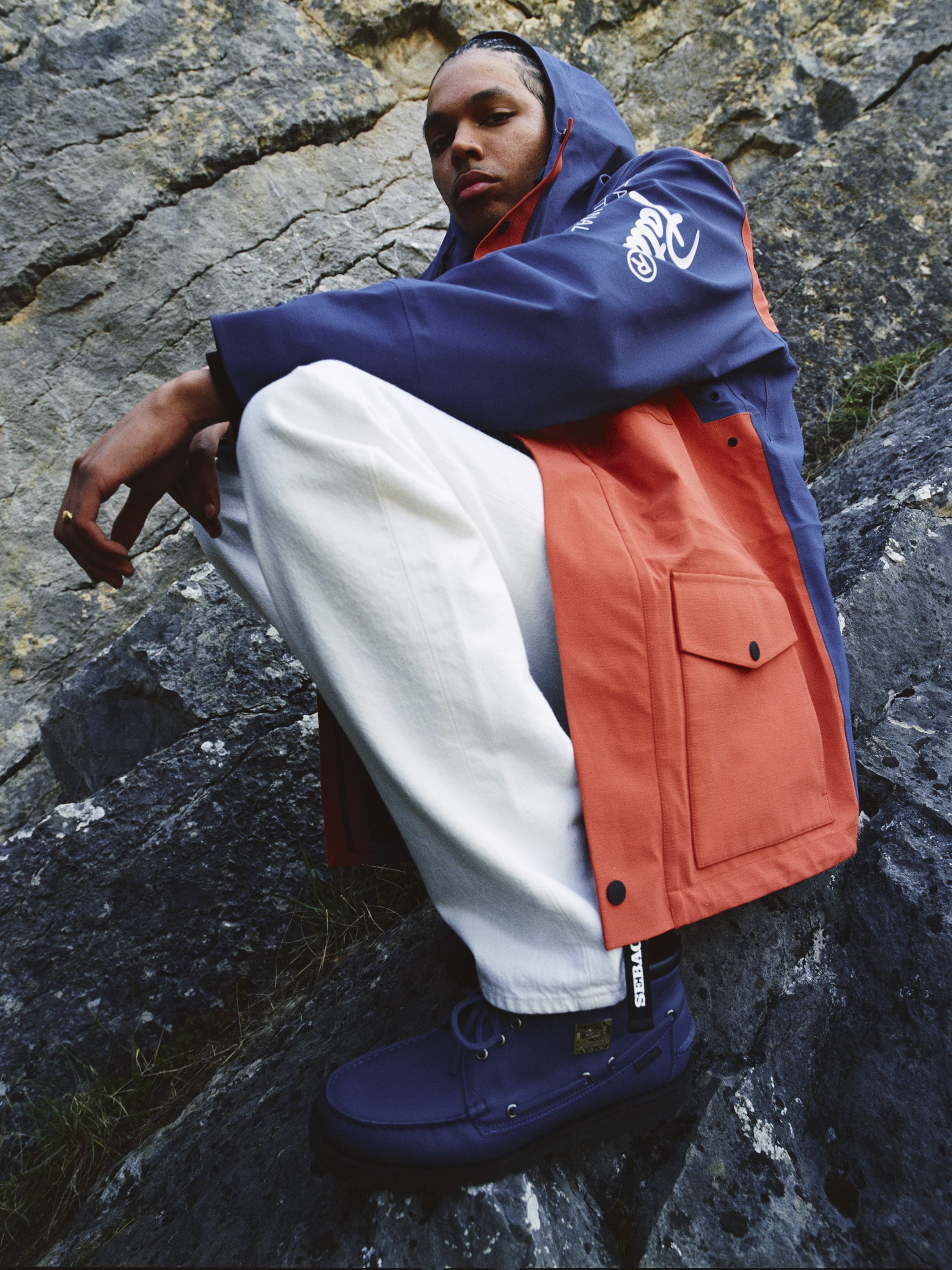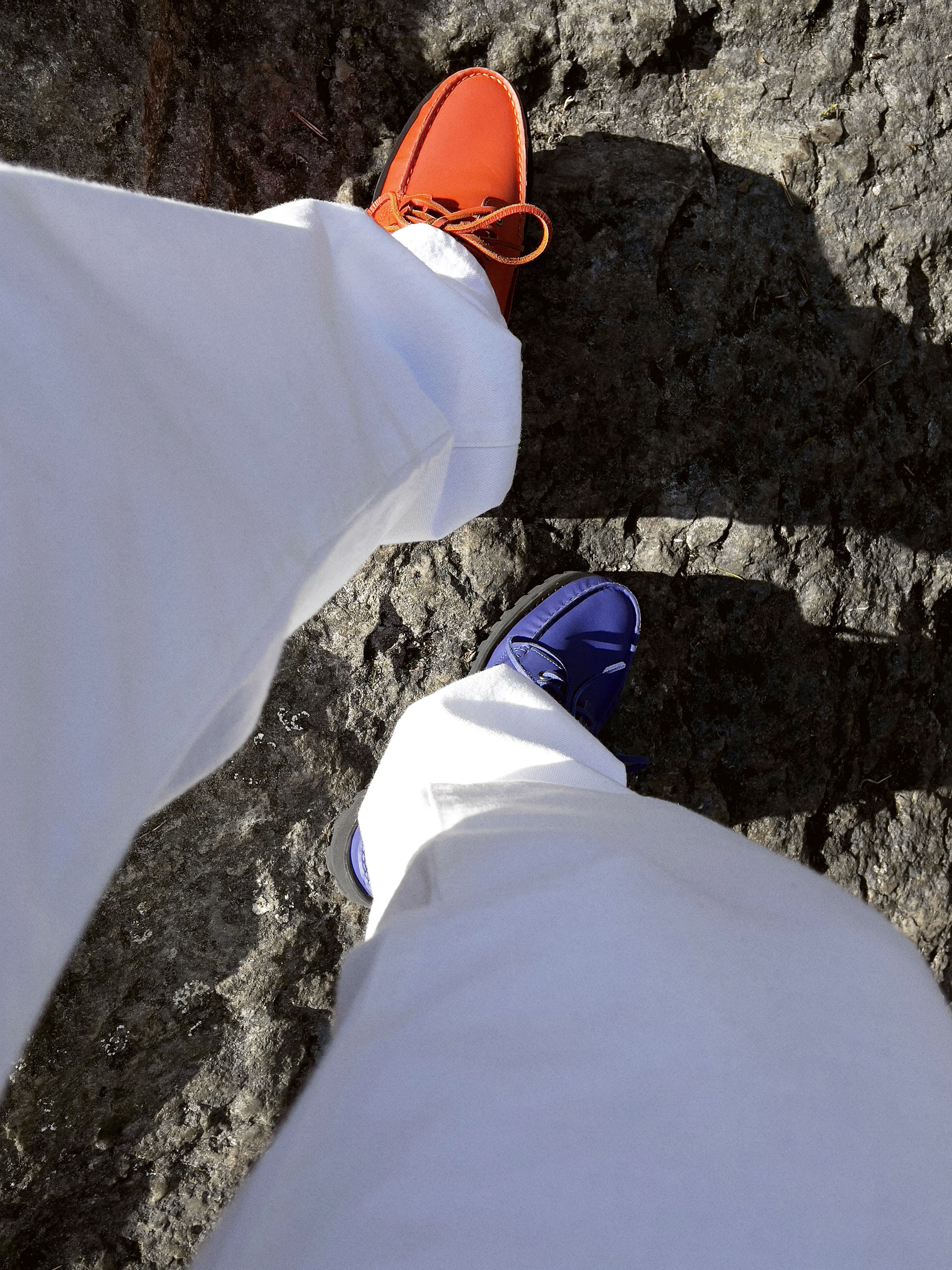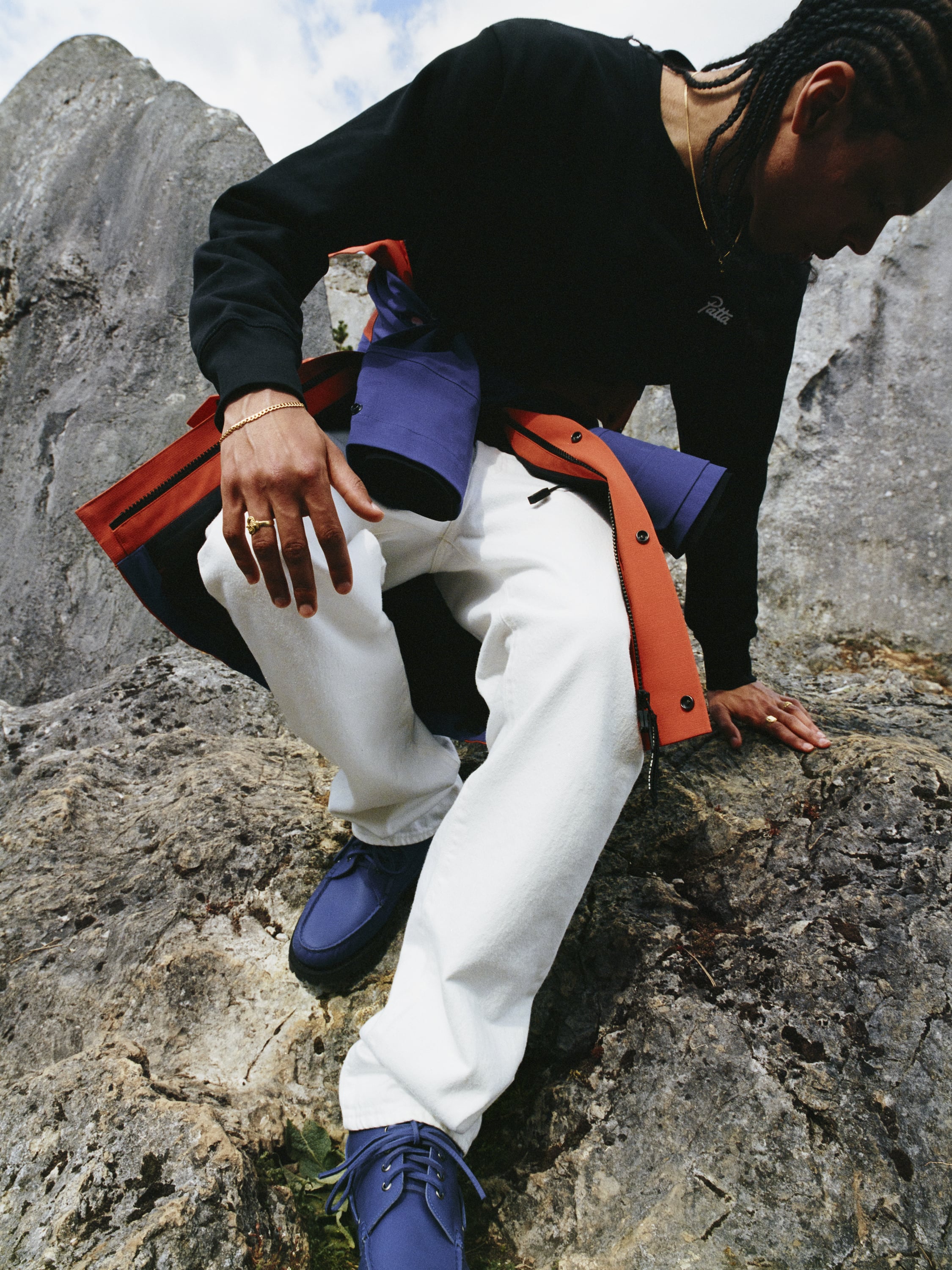 NEXT
Patta x Peter Angelo Simon Capsule Editorial